We went to Bali
Lessons on traveling while a young family
One of the many reasons that we decided to make our recent move is the opportunity to "see the world" that the new job affords us as a family. Which is a significant change for us. In our past life, we were basically always too house-poor to ever do something like take a nice vacation (outside of our immediate geographic and family sphere). Last week, we took our first See The World vacation; we went to Bali.
Going to Bali as the first vacation for Singapore expats is such a common thing as to be almost trite. I don't have hard data on it, but my conversations with colleagues suggest that it's the usual first destination. I'm not sure why that it, but I imagine it's a function of a high proximity:perceived exoticism ratio. Bali looms large in the western imagination as a place that is far away and canonically tropical. From Singapore, it's a 2-hour plane ride. So once you move here, you go.
The trip was enjoyable, but not without a few lessons. We deliberately chose a resort that was on the smaller side, and away from the main city of Denpasar. And that's just what we got, with our hotel of choice being outside the village of Tulamben on the north-east coast of the island, an area mostly known for its scuba diving. The result was that our hotel was both lovely, and an almost entirely self-contained system. If you like lounging by a beautiful pool while the south pacific stretches out before you, occasionally going to the on-site restaurant for nourishment and refreshment, then I can't recommend our choice highly enough. This is especially true if you are a scuba diver/snorkeler. Before we get into the rest of it, here are some pictures: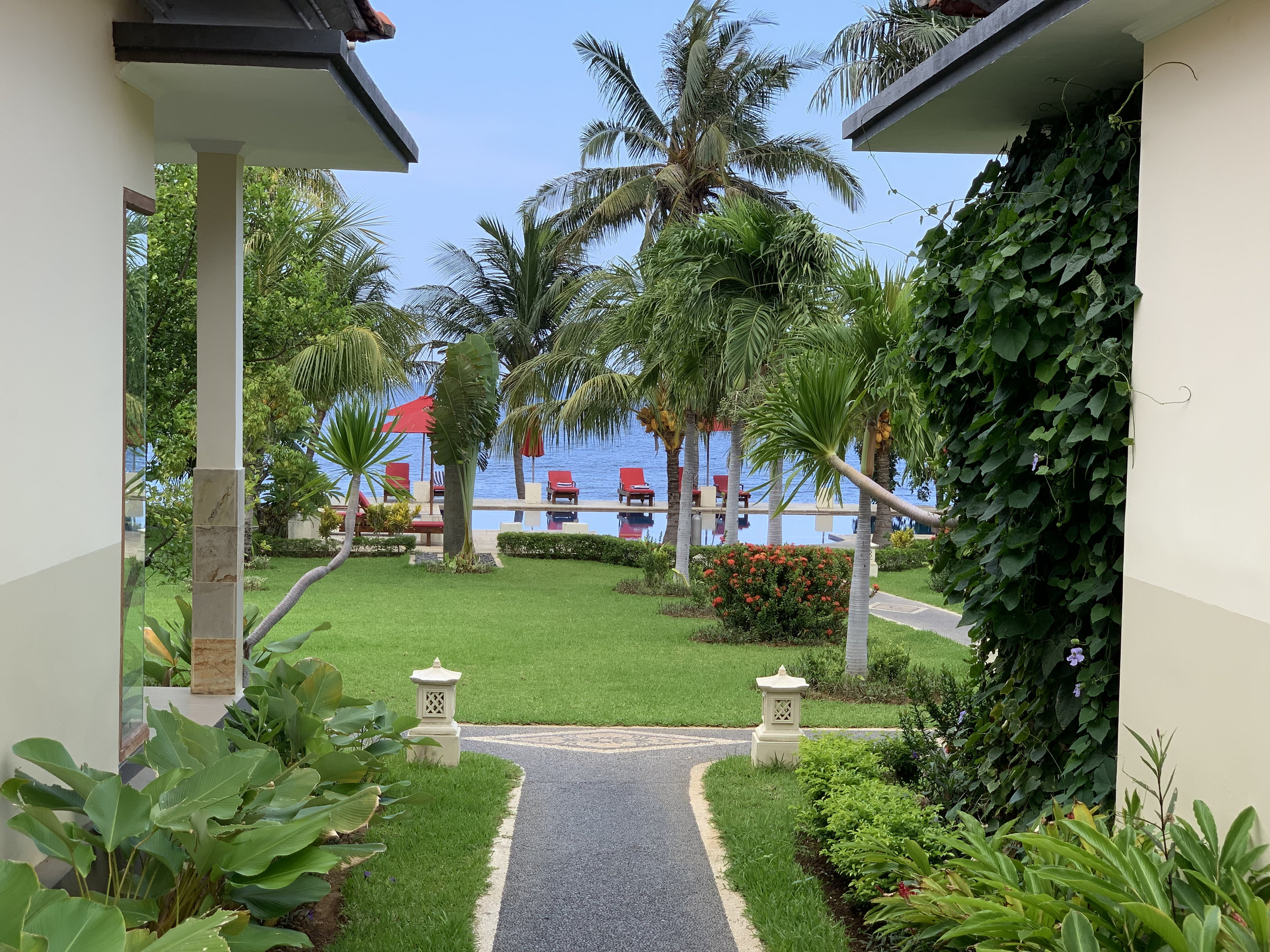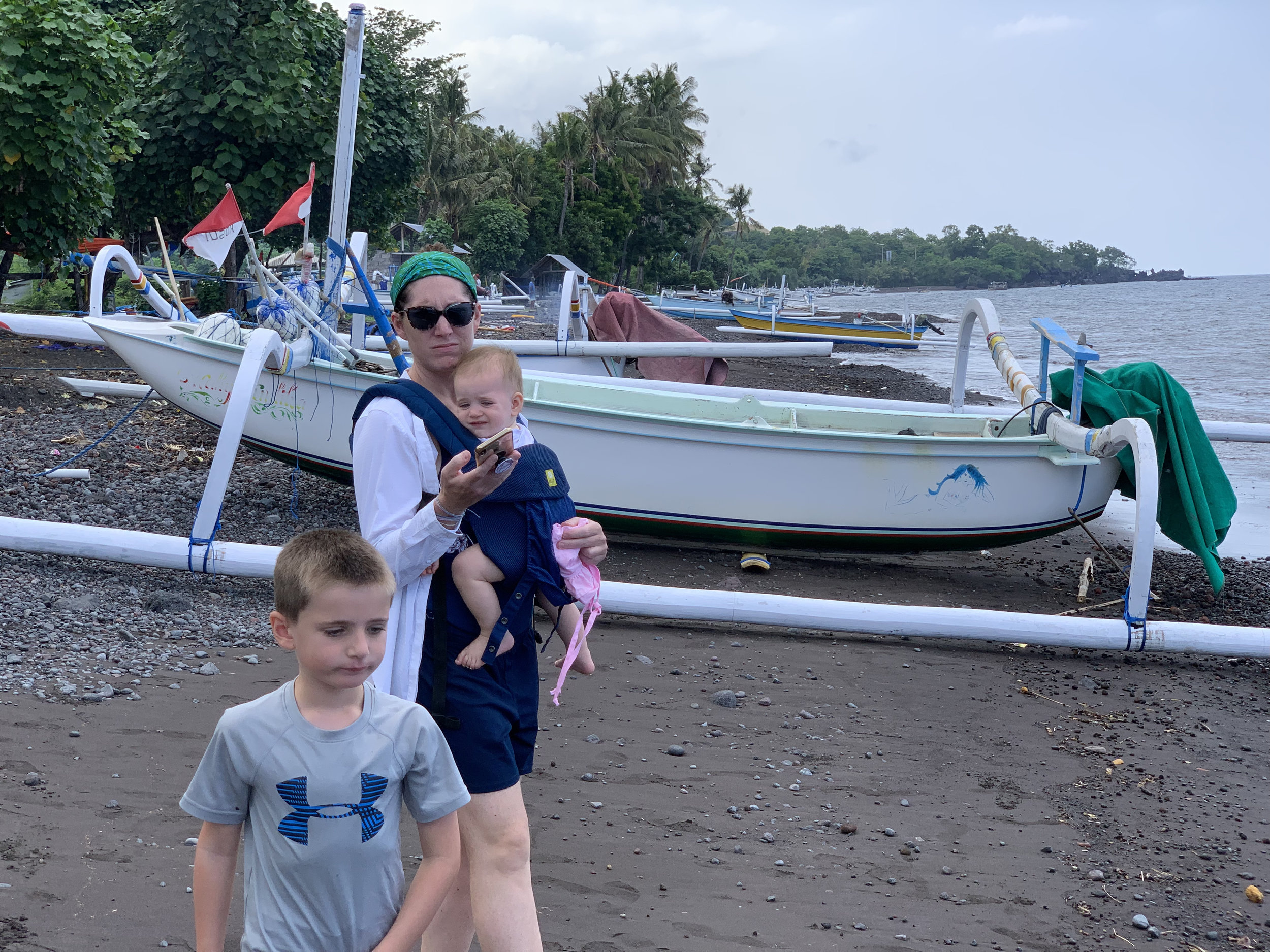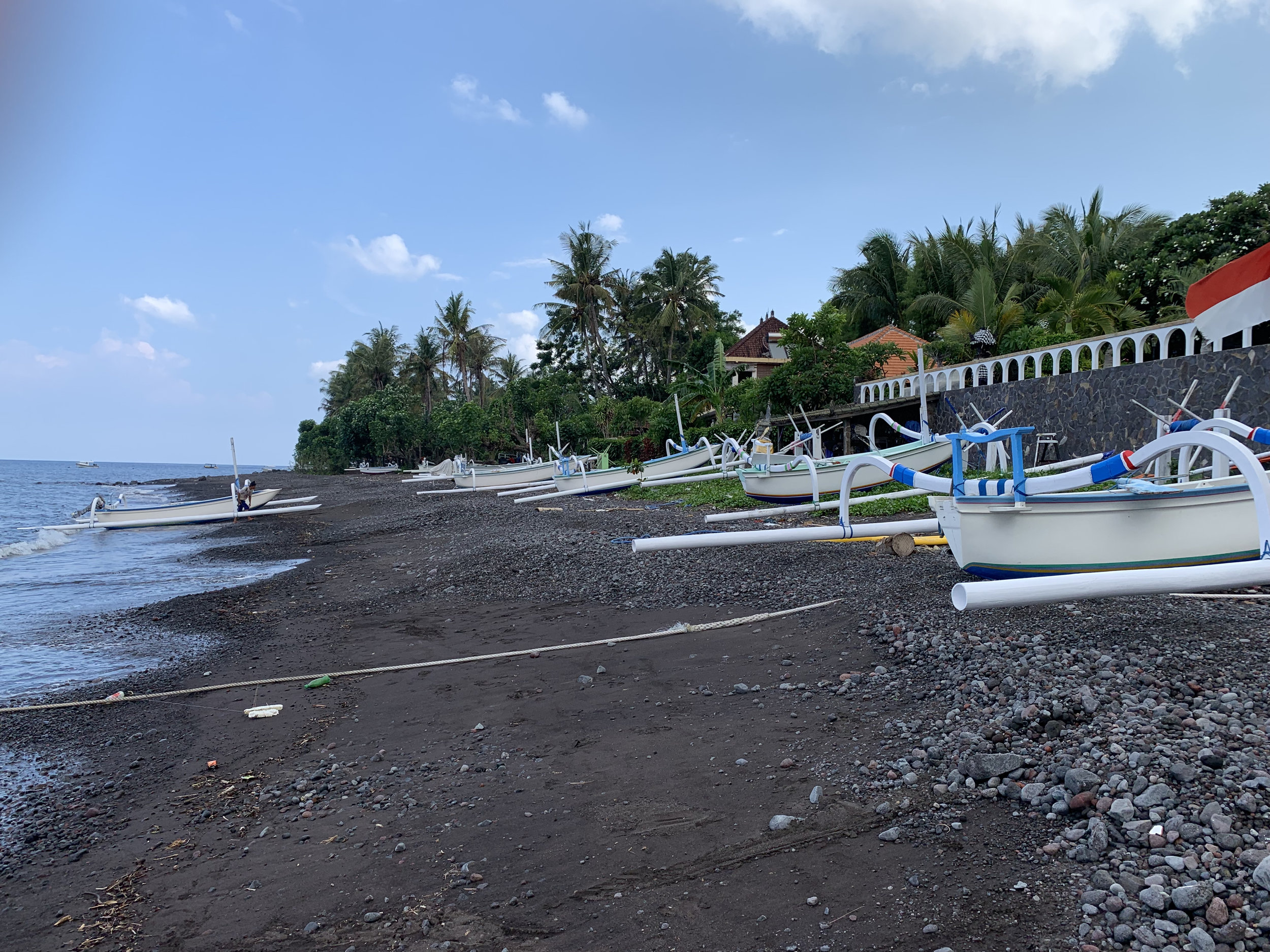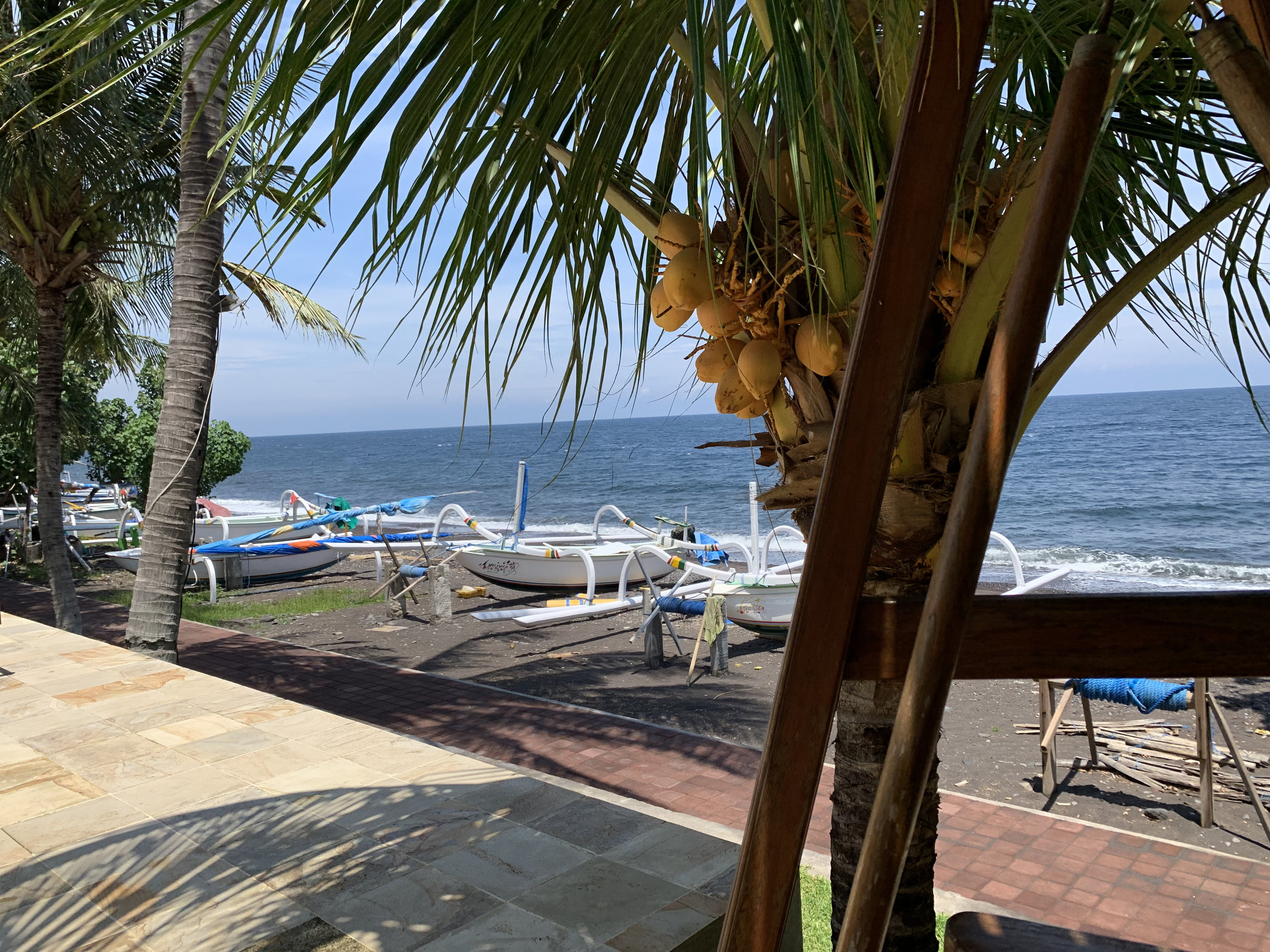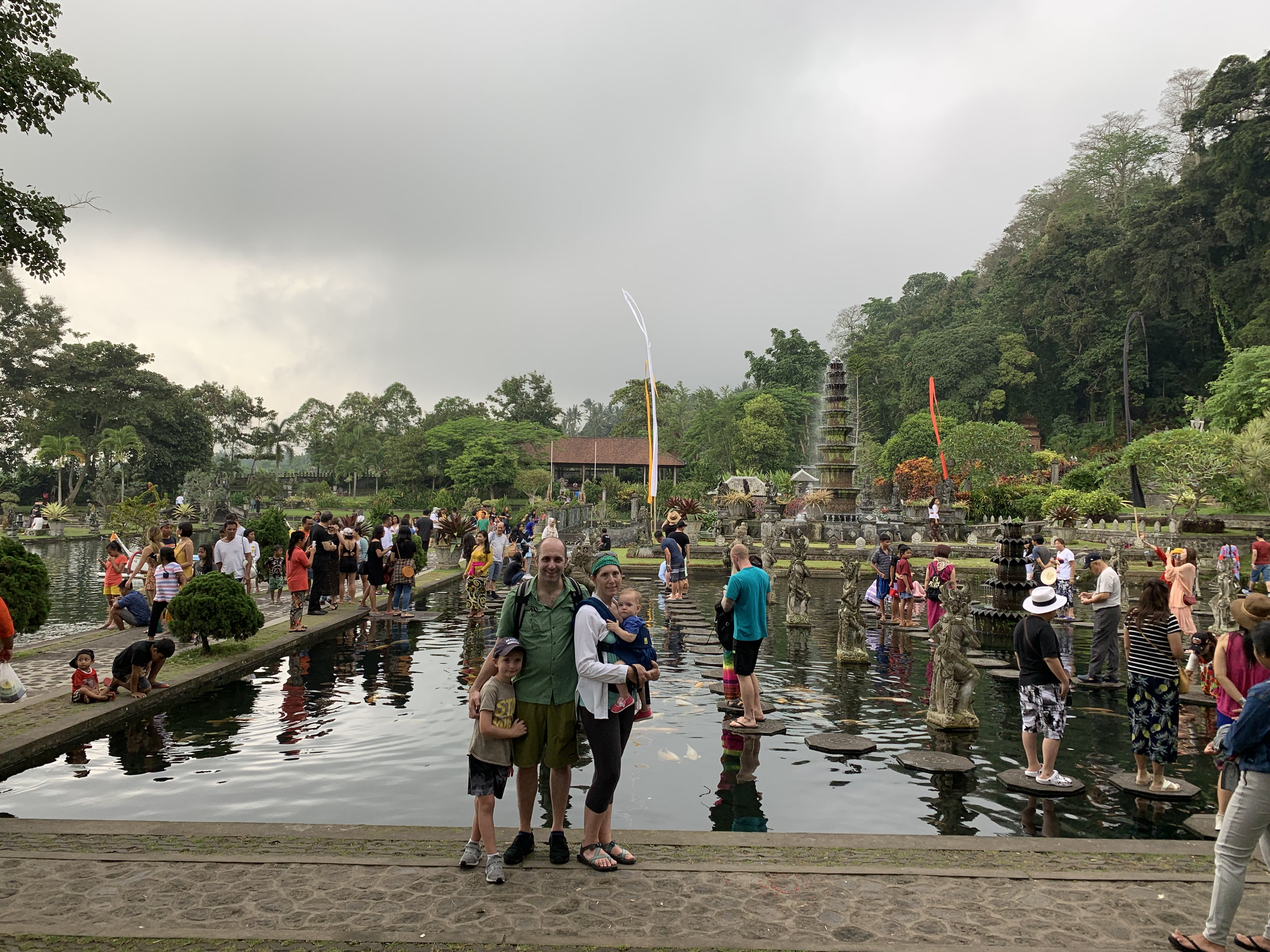 All of this established this was probably not the ideal Bali resort for our family at this particular moment in its configuration. Our son has only just recently learned to swim, and while we did outfit him with mask/ snorkel /fins, he found his first snorkeling experience to be somewhat overwhelming. I'm not sure he spent more than 5 minutes in the water with me (a totally normal first-snorkeling experience, btw). And if you're not diving or on the water, there is very little to do in that area of the island outside of lounging at the resort. This is not a complaint, it's just a fact of the locale, one that's a bit incompatible with small kids.
Our daughter is 13 months old, which means that she is adorable, and into pretty much anything she can get her hands on, and in need of absolutely constant oversight. While the resort absolutely did its best to welcome her, and make our stay as comfortable as possible (with a crib, and a high chair, and a staff that LOVED hanging out with her), it was obvious and understandable that the place wasn't really designed with her in mind. Things like a wide-open, unfenced pool and a 1.5-meter drop-off between the pool deck and the brick path bordering the beach are not the kinds of things that speak to kid-friendliness.
One of the things that makes Bali so attractive is that it is not a particularly developed place. This makes it unique, but it also comes with particular issues related to infrastructure that can be problematic when on vacation with small children. The two that really worked against us on this trip were the limited roads and (possibly) food sanitation. The distance between the airport and the resort was 60 miles, but on Bali's roads, that's a 3-hour drive (longer than the flight!). Which is a long time to be in a car with small kids, particularly once the road becomes a single lane winding its way through the mountains. A person is liable to get car sick, which is what my son did about 30-minutes out from the resort on the way there. And it's not super-easy to just pull over and handle something like that, though our drivers did an AMAZING job.
The above is an annoyance. Food sanitation is more than that. Given that the hotel was so remote, we had one food option— the hotel restaurant. Which was very tasty and did an all-around good job. But in the early morning of our last full day, we awoke to our son having to run to the bathroom. That afternoon, my wife did similarly. Early the next morning, with the prospect of a 3-hour drive back to the airport in front of us, my daughter began vomiting every 15 minutes for a few hours. Somehow, I managed to escape the problem until we were back in Singapore for 24 hours, at which point I went down, too. I can't conclusively say that what ran through us was food poisoning. My other family members were eating a lot of chicken, and I ate less of it, more toward the end of our time at the hotel. It may have been something viral, or something else related to the essentially-impossible nature of keeping conditions sanitary in a developing tropical locale during the rainy season. And really, I don't blame the resort, or Bali more broadly. It's just that when your entire family is in the throes of digestive illness, and you've placed yourself 3 hours away from anything even remotely approximating the standard of medical care that you are used to, you tend to reexamine the choices that put you there.
So what did we learn from our first attempt to See The World? The main lesson for me is that the world is not always easy to see, particularly when you have small kids in tow. When vacationing with kids, you need to understand that certain things are going to need to be available. This includes kid-friendly grounds, stuff to do, and decent proximity to population centers in case of unforeseen occurences (gastrointestinal or otherwise). I'm sure that none of this is anything other than obvious to many readers, but it still took us this trip to learn it. The idea that you'll go to a tropical island and get away from it all is very romantic, but at this stage in our life, it's not very realistic. There will be occasion for that down the road. For the time being, we'll stick more closely to bigger hotels and more populous spots.